I KNEW…
…that I wanted to play baseball professionally from the time I was 10 years old and had realized what it felt like to drive a baseball over the fence, experience the smell of my glove when I put it up to my face, and the feel of the rush of a Saturday night game under the lights when I took the mound. I just knew.
Once I experienced all of these amazing things that baseball provides so many young kids and families, as well as the coaching influences I was blessed to have from a young age, I knew that I wanted to make it to the big leagues and that I would do whatever was necessary to achieve that goal. I felt such a connection to what I was doing while playing baseball. One of my biggest reasons for this was because I was always fortunate to have the wholehearted support of my mother in my path of life and in baseball. She was always attending my games and always being the one in the stands that was ridiculously loud! I never remember feeling embarrassed, just proud, motivated, and appreciative of having her there watching and supporting me. It always felt so great to me to know she was there.
LOG CABIN UP NORTH
I KNEW that if I worked as hard as I could that baseball could one day could enable me to pay for the "log cabin up north" that my mom had always told me she dreamed about having, and I really wanted to be able to buy it for her because I always felt like she deserved it so much for everything she always did for me.
I always knew that I could be successful at baseball. Once I was 16 years old and hit 89mph on the radar gun as a left handed, high school junior pitcher, and had a great coach in my corner, Tom Novak, supporting me and making me really believe in myself and my potential, I came to the realization that I would be the only one that would possibly be able to stand in my way.
CURVEBALL #1
After playing my freshman year at South Mountain Community College in 2003-04, I earned a full-ride scholarship to pitch at Washington State University in 2004. The day I arrived would be the first time in my path that I wouldn't be cleared to play due to my hip condition. The doctor informed me that I would most definitely need to receive a hip replacement eventually, and that I should try and wait to get it replaced until I was at least 30 years old due to the nature of artificial hips and often times needing to be revised with another surgery (statistically) within 15 years, and sometimes shorter if a person was "too active." To say the least, I wasn't sure what I was supposed to do at this point. My mom was always positive, always so encouraging, and always hopeful for greater things…I figured I ought to do the same regardless of the fact that this was happening. So, I started looking for answers because I knew it couldn't be over.
I had hip trouble growing up that had ultimately led me to having a very arthritic hip joint by the time I was 19 years old. My hip was highly arthritic due to a condition I was diagnosed with when I was just seven years old. The condition is known as legg-calve perthes syndrome,​ disrupts the development of the hip socket and eventually leads to avascular necrosis and osteo-arthritis. It was because of this condition that I was a candidate for the hip replacement surgery; it was because of baseball that I made the decision to get it done so young.
FIND A WAY
Devastated by not getting cleared to play at the Division 1 university I had worked so hard to get a baseball scholarship to, I decided to respond by looking for solutions. Getting back on the field in the face of all the doctors telling me to quit was a quantum leap of stepping into the land of unknown for me, but I kept working hard and taking care of my part while I search to find the way it would be done. I chose to "take a risk" and get the procedure done at the early age, so I could attempt to make an unprecedented come back to the game. I decided I would do the surgery and do what needed to be done in order to recover and get back on the field pitching again.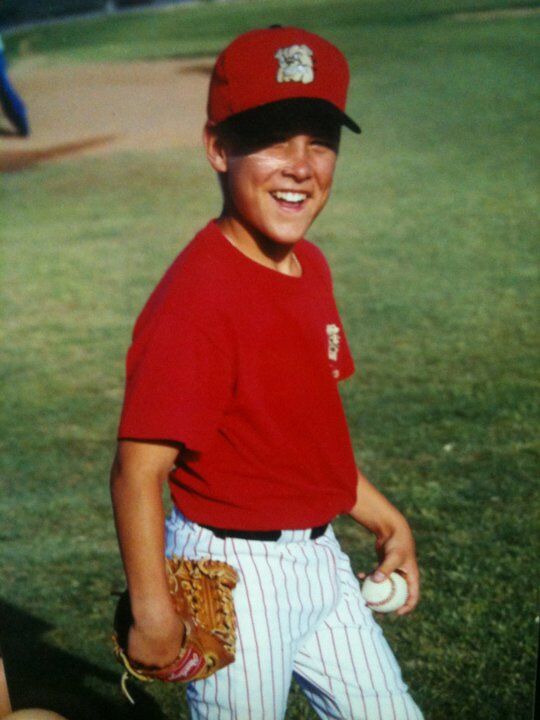 CURVEBALL #2 (and #3)
A major disruption in my baseball comeback plan presented itself in May of 2005. My mother, EVE, was out with some girlfriends at Greasewood Flats in Scottsdale and unexpectedly passed away from a random and unexplainable heart attack. This made life pretty difficult that summer, considering my father had also just passed away in September of 2004 from a bout with cancer. So, at the age of 19 I had just lost both of my parents within 8 months of each other…and I was scheduled to get a hip replacement just two months later.
ACCELERATE LEFT
This pile of obstacles was all thrown on top of the fact that I was transferring schools from WSU to University of Arizona. Now I was going to be doing it all on my own. Life was hazy around that time to say the least. I always told people I had to go left(positive), otherwise I felt like I would end up going right(negative)…but either way I would be choosing to accelerate in that direction and there would be no middle. I was questioning quite a lot around this period in my life. I knew that I would justify and honor my mother's shortened time on Earth, and that I had to uphold the positivity that she raised me with and choose a wholehearted and accelerated direction of LEFT. For this reason, and because I had/have such an amazing support group, I was able to push through this difficult time and stay determined to achieve my goal without losing focus or getting derailed.
FOCUS
I chose to focus on being thankful for what I was/am blessed to have rather than dwell on the events that occurred. It was this ruthless attitude that propelled me in everything I did/do and was the reason I was able to make a comeback as only the second player to ever play professionally with a hip replacement. Bo Jackson was the other and he played for two seasons after receiving his THR. I finished my seventh season in 2013 with over 700 professional innings pitched. I used baseball to stay positive and driven, and I had to keep choosing to Get MADE EVEryday. There was not going to be a middle ground.
MANIFEST CHAMPIONSHIPS
During my seven year career I have been fortunate to win 4 championships, win a championship MVP, throw a no-hitter, be named to Baseball America's Top 10 Prospects two years in a row, pitch in Mexico as one of the youngest imports to ever play, pitch in five different countries for 11 different teams, and pitch over 700 innings all on a hip that doctors have always told me I can't and/or shouldn't pitch on. A crazy amount of un-coincidentally positive things have happened and continue to happen throughout my baseball journey. From playing in different countries like Australia and Czech Republic, to connecting with amazing new players/clients that I am fortunate to work with, and I have always known that none of it is coincidence…they are just manifestations of an attitude choice that I MADE.
REASON > EXCUSE
I was picked up by four different affiliated organizations only to be told they would not clear me to play, simply because I was classified as a liability due to my hip. Although it was very difficult to continue to be told "no" so many times, it is the response that I learned to focus on instead of the outcome. Since learning to do this I felt like I learned how to conquer the world. For me, this positive response that I chose to make was the process of "making myself" which is where the term and/or state of mind of "Gettin' MADE" and "Get MADE" has been created.
The path of my seven year playing career has been like a fairy tale for me, with so many unforgettable experiences enjoyed, so many relationships built, and so many lessons learned and continue to learn. All the accolades or accomplishments are secondary to the value I have received in my life from choosing to have a positive attitude about it all. For me, the ride has still not ended and never really will. Baseball has helped to shape my view on life starting with my ATTITUDE. I tend to be pretty passionate about what I am doing on the field, whether it be training or teaching. My knowledge, attitude, and baseball acumen give me something very valuable and unique and dynamic to give back to those that are first realizing what the smell of their glove is like or what it feels like to rip a double in the gap on a Saturday night under the lights. Most importantly, for those that want to be a part of a quality group of champions who are working towards a common goal. That is one of the reasons that I chose to create the MADE Baseball program. The other reason is because I know the way I trained when I was young, and it was sub-optimal to say the least! I knew nothing about pitching training, hitting training, baseball conditioning programs, or real nutrition, and I did not have someone that truly cared to guide me or taught me about some of the specific mental aspects of the game that I find are so necessary to expose players to even from a young age.
LEARN CHAMPION HABITS YOUNG
My mother always provided all that we needed as kids, and she was always there to get me to my games and practices, but she really didn't know anything about what quality baseball training, nutrition, or baseball conditioning truly entails. As young athletes we have a huge advantage if we are taught the proper methods early on in order to create a remarkable foundation of habits to build up from. That is what MADE is all about and that is why it exists. Motivation, Appreciation, Dedication…EVEryday. We do our best EVEryday and all the time, continuing to create ourselves championship positive habits towards success in our lives. This starts from our youth, and it starts with the champion mentorship.
Thank you for taking the time to read about the history of MADE.
"Champions aren't born, they're MADE. #GetMADE."
We look forward to working with your player!
-Coach Isaac Hess