*Coaches are required to keep their availability accurate and up-to-date. Click "Booking & Availability" to see Coach Ryan's availability and book lessons online.
Coach Ryan W. provides baseball lessons in Sherman Oaks at Van Nuys/Sherman Oaks Recreation Center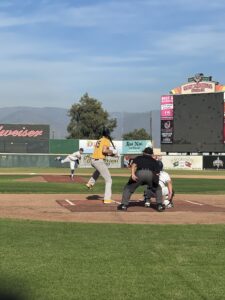 Short Bio:
My name is Coach Ryan Williams and I love being a baseball coach and helping my players learn the game of baseball. I have played baseball for over 19 years as a pitcher and first baseman. I am excited to implement in my lessons everything I've learned along the way from so many great teachers and coaches. I take pride in teaching great baseball mindset and confidence, but my main passion and strength is teaching young players how to be successful pitchers and what it takes to maintain strong, healthy, and durable arms. I also love teaching first baseman skills as well. From the offensive side, I work hard to help my hitters create a better understanding of what they are doing at the plate and how to create hitting routines to help them become their best.
I have been a baseball coach for 5+ years both as a high school varsity coach and as the head coach of a competitive men's league team in Los Angeles. I understand what it takes to get to the next level and I want to impact my players/athletes in the best way and help them achieve their goals. My excitement and enthusiasm in coaching is when I get to see my player's growth over time, especially those who really love the game and stick to their work ethic over time.
Coaching Experience:
• Head Varsity Coach , Fulton High School (21-22) & (22-23)
• PCBL Drillers Mens League Manager and Coach 2019- current
Playing Experience:
• Little league – SVBL in Simi Valley from age 5-14
• High school – ABDG Mets 4 years in Thousand Oaks California as a pitcher and first baseman. Won championship my junior year.
• College – 1 full summer on the Moorpark college club team
• PCBL Mens league 2017-current (Player and Manager)
• Top 5 in Cy young voting 4 of 5 seasons.
• 2022 PCBL Allstar (pitcher)
• Career – 6 complete games, and 1 complete game shutout, 1 no-hitter
A lesson with me:
A lesson with me is always fun and productive and I always make sure that my players leave knowing they've learned something as well as have homework to work on until I see them again. When we get rolling with our session, we will spend about 10-12 min doing a proper warmup. Stretching, arm care, and long toss are very important for a player's longevity and avoiding injury, as well as overall throwing mechanics. While throwing I work to offer feedback to my player to help them make adjustments along the way as needed.
Depending on the player's lesson needs, I will work on teaching proper throwing and pitching form while throwing bullpens, different pitch grips, recovery and conditioning exercises, defense work, Etc. If we are focusing on hitting, I always do my best to throw live batting practice to my hitters when it is safe and there is sufficient space on the field.
My favorite motivational quote:
"Champions always find a way."
Most Common FAQs
Where exactly do I meet my coach?
How do I prepare for my lesson?
What is your vetting/hiring process for baseball coaches?
Do you work with Adult baseball players?
What is MADE's 100% satisfaction money back guarantee?
How do lesson packages work?
Can I add a player to my individual lesson?
Do you have batting cages I can rent?
What is the 24 hour lesson scheduling policy?
Can I talk to my baseball coach before I purchase lessons?
Do you have customer support?
What types of students do you work with?
Availability & Training Locations